1. 2017-18 MHE NMDS¶
1.1. Essential definitions¶
1.2. Changes for 2017-18¶
The specific detailed changes to the 2017-18 (version 2.20) specifications, compared to 2016-17 (version 2.10) are listed below.
1.2.1. Changes to the data model¶
No changes to the data model have been made.
1.2.2. Changes to definitions¶
The definitional changes to the 2017-18 specifications, compared to 2016-17 are listed in Table 1.1.
¶

| Data elements | Details | Rationale |
| --- | --- | --- |
| Mental health establishments NMDS (Scope) | Included additional guidance on the scope of service contacts for the collection: "The scope of the MHE NMDS includes 'in-reach' mental heath service contacts, that is, service contacts provided to patients admitted to psychiatric hospitals or designated psychiatric units in acute care hospitals, and residents in 24 hour staffed specialised residential mental health care services." | Provided additional clarification for the scope of mental health service contacts for the collection. |
| Address —statistical area, level 2 (SA2) code (ASGS 2016) N(9) | Updated ASGS SA2 code to 2016 version. | The ASGS code in the MHE NMDS has been updated to align with the most recent ASGS code (2016). |
1.3. Reporting statistical units¶
The statistical units in the MHE NMDS are Specialised Mental Health Services METeOR identifier 268984). These are the:
specialised mental health components of the state and territory health authorities, and of regions within states and territories;
specialised mental health service organisations;
hospitals or service unit clusters;
service units; and
specialised mental health services provided by private hospitals, and non-government residential service units in receipt of state or territory government funding.
In general, states and territories determine the organisational units that will report as regions, organisations, and service units for this NMDS.
Only those specialised mental health services provided by private hospitals and non government residential mental health services that receive state or territory government funding are included as service units for this NMDS.
Ambulatory services managed by non-government organisations (NGOs) are not defined as statistical units for this NMDS.
The following sections provide more information on each of the statistical units and reporting levels used in the MHE NMDS.
1.4. Data model of the MHE Extract¶
Fig. 1.1 provides an abbreviated overview of the structure of the data to be reported. Information is provided at each level: State/Territory; Region; Organisation; Hospital/Service unit cluster; and Service unit (Admitted patient services, Residential services and Ambulatory services). Each level has a unique set of attributes which comprise the NMDS data elements and additional supplementary information.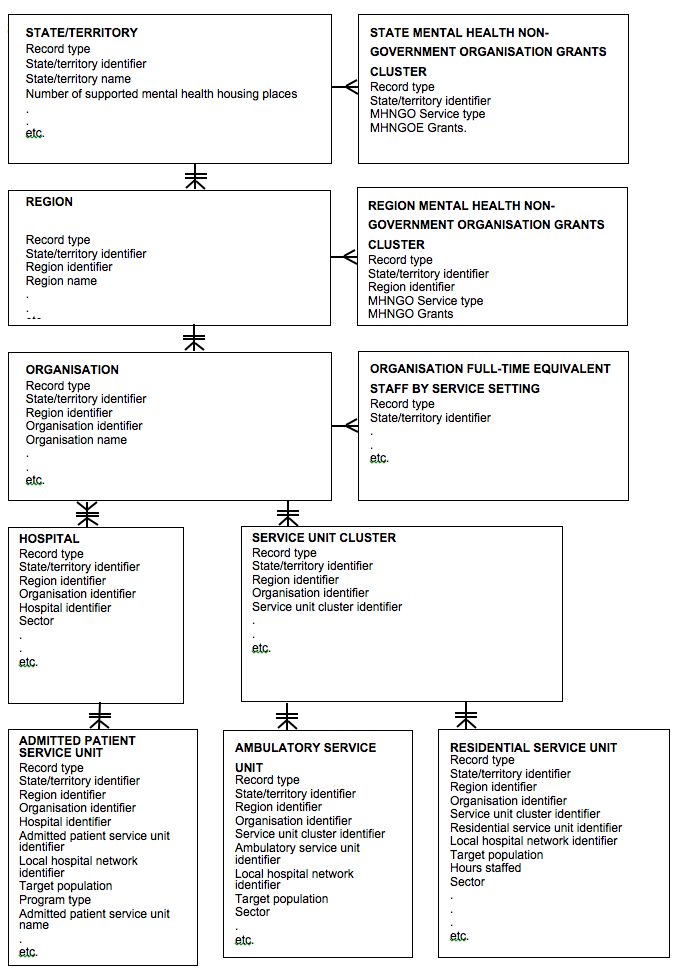 1.5. Data integrity¶
For cases of missing data (that is, unknown, not stated or not available):
For Numeric [Num] fields, the data should be reported as zero, using leading zeros when necessary to pad out the field to the required length. The principle here is that all numeric fields require a valid value.
For Text [Char] fields, the data should be space-filled to the required length. For single character fields where a 'missing/not stated' value has been specified for a particular data element (for example, '9' has been specified for missing data), use the stated value for 'missing/not stated' rather than simply space filling.
Values in Date [Date] fields must be recorded in compliance with the standard format used across the National health data dictionary; specifically, dates must be of fixed 8 column width in the format DDMMYYYY, with leading zeros used when necessary to pad out a value. For instance, 13 March 2018 would appear as 13032018.
Values in Numeric [Num] fields must be zero-filled and right-justified. These should consist only of the numerals 0 to 9 and the decimal ('.') point if applicable to the data element.
Note: Fields defined as 'Numeric' are those that have numeric properties—that is, the values, for example, can be added or subtracted in a manner that is valid. Where a field uses numeric characters that do not have these properties (for example, the use of numbers for Patient identifier), the field is defined as 'Character'.
Values in Character [Char] fields must be left justified and space-filled. These should consist of any of the printable ASCII character set (that is, excluding control codes such as newline, bell and linefeed).
1.6. Data set specification (DSS)¶
As noted earlier, the proposed file structure for the transmission of data from jurisdictions to the AIHW is a single Fixed Format data file. The following tables specify the order in which the data items should be provided to the AIHW.
The extract format consists of a set of hierarchically ordered Data records, of which there are twelve types (see Table 1.3).
In each extract file for any given period, the Data records must be preceded by a single File Header Record having the structure outlined in Table 1.4.
All records presented in the extract file should be grouped in the following order: Header Record; State/Territory details records; Region details records; Organisation details records; Hospital/Service unit cluster details records; and Service unit details records.
With the exception of Region, Organisation and Service unit cluster details records, all Data records should include the following elements in the order shown:
Record type
Establishment identifier (comprising: State/Territory identifier; Region identifier; Organisation identifier; Hospital identifier/Service unit cluster identifier; and Service unit identifier)
Specific data in the format specified for the given record type
The order of fields in a record must be the same as the order they are listed in the Record Layouts specified below. Field values should be formatted as specified in the Record Layouts.
The first field in each record must be Record Type. Valid values for Record Type are shown in Table 1.3.
¶

| Record Type | Description |
| --- | --- |
| HR | File Header Record |
| ST | State/Territory Details |
| STNGOE | State-level Non-Government Organisation grants |
| REG | Region details records |
| REGNGOE | Region-level Non-Government Organisation grants |
| ORG | Organisation details records |
| FTEORG | Organisation Full-time Equivalent Staff by Setting/Target Pop |
| HOSP | Hospital Details |
| CLUS | Service unit cluster details records |
| ADMI | Admitted Patient Service Unit Details |
| AMBU | Ambulatory Service Unit Details |
| RESI | Residential Service Unit Details |